2019 Arnold Classic Preview
January 25, 2019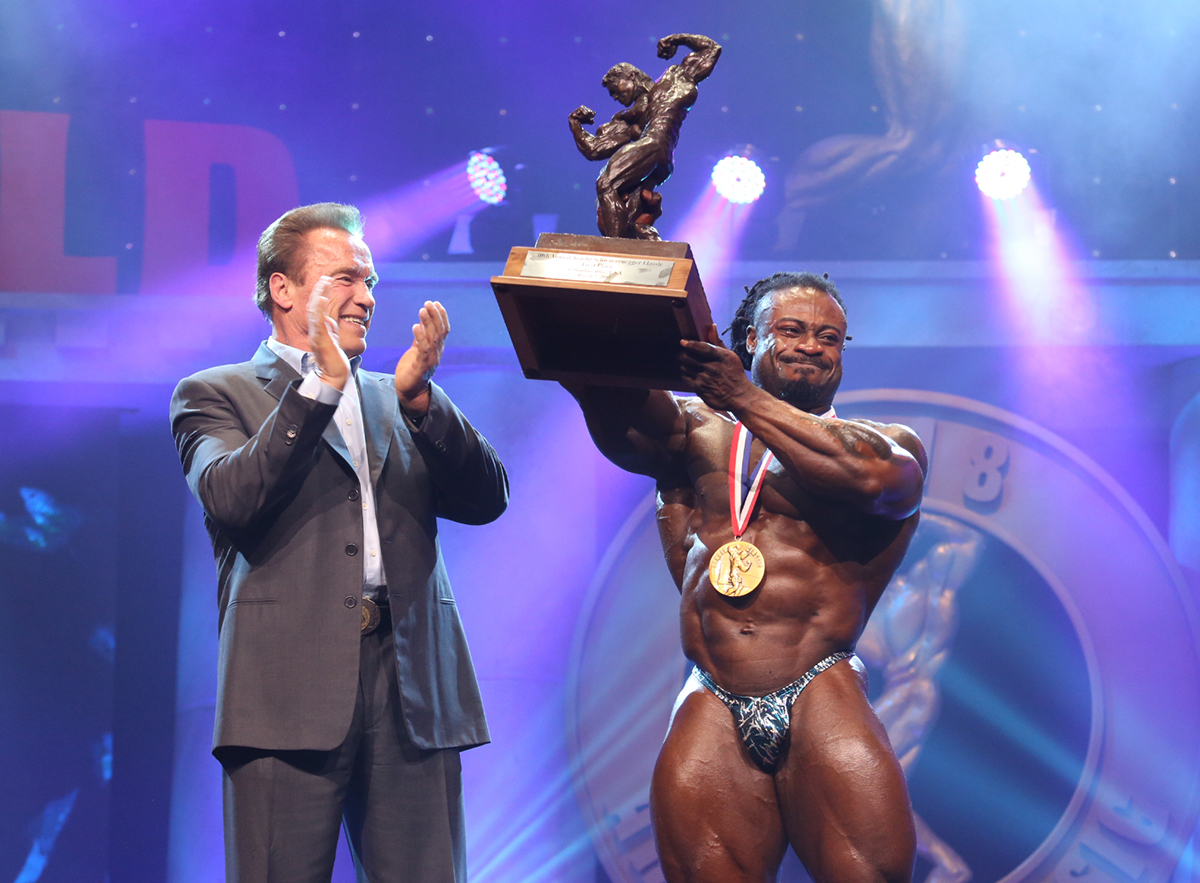 William "The Conqueror" Bonac won the 2018 Arnold Classic for the biggest win of his career.


In the world of professional bodybuilding, there are two major titles that every competitor hopes to win. One is the Mr. Olympia and the other is the title of Arnold Classic Champion. Aside from the man the title is named after, Arnold Schwarzenegger, winning this show puts your name alongside those that are considered legends of the sport. Rich Gaspari, Flex Wheeler, Ronnie Coleman, Jay Cutler, and Dexter Jackson are just a few of the greats who have stood tall with Arnold in Columbus, Ohio.
The competitors on this list hope to be the one who Arnold interviews at the conclusion of the 31st annual Arnold Classic. Here's what you need to know about each of these tremendous athletes.
12 competitors are in the field. 8 countries are represented in the lineup with the most coming from the USA. 3 men are past champions. The others either qualified via winning a show that awards an invite or by being invited to compete. 4 athletes in the field are under 30 years of age. 3 others are over 40. The winner of this contest will be automatically qualified to compete in the 2019 Mr. Olympia.

Buy Tickets Now
ARNOLD CLASSIC CHAMPIONS
William Bonac
Height: 5-5
Weight: 235 pounds
Age: 36
Home Country: Netherlands
The Skinny: The 2018 Champion is returning to Columbus to defend his title. He's coming off a 4th place finish at the 2018 Olympia. Working with coach Neil Hill, "The Conquerer" who calls the Netherlands home packs a lot of muscle on his 5'7" frame. When his conditioning is where he wants it, he can beat anyone that is onstage with him. This will be his second appearance in this show.
Cedric McMillan
Height: 6-1
Weight: 280 pounds
Age: 41
Home Country: USA
The Skinny: MacMillan, a military man from South Carolina, has finished in the top 3 at the Arnold Classic for the last three years. He was runner-up to Kai Greene in 2016, won in 2017 (he had a memorable interview. He got Arnold himself to pose), and was 3rd in 2018. He's considered by fans and experts to be a throwback competitor which has been appreciated by many including Arnold.
Victor Martinez
Height: 5-9
Weight: 250 pounds
Age: 45
Home Country: USA via Dominican Republic
The Dominican Dominator made his first appearance in Columbus in 2002, won this title in 2007, and finished a controversial 2nd in the Olympia that same year. His last appearance here was in 2014 where he finished 4th. He's the oldest athlete in the lineup and in the second half of his career but still showcases a tremendous physique with memorable posing routines.
THE CONTENDERS
Roelly Winklaar
Height: 5-6
Weight: 270 pounds
Age: 41
Home Country: Curacao
Winklaar is considered the wild card this year. He defeated Bonac at the Arnold Australia in 2018 and finished ahead of him at the Olympia (Winklaar was 3rd) He also won the title of "People's Champion" at that event so he's riding a wave of momentum. His arms are considered among the best in bodybuilding history and he's improved his conditioning considerably over the last year.
Josh Lenartowicz
Height: 5-10
Weight: 260 pounds
Age: 35
Home Country: Australia
Hailing from Australia, Lenartowicz has only graced the Arnold Classic stage once. In 2016 he finished 3rd. He took off the entire 2018 season to add muscle and prepare for this show. This will be his first show since the 2017 Olympia. His combination of dense muscle and presentation makes him a fan favorite in Australia and around the world.
Brandon Curry
Height: 5-7
Weight: 235 pounds
Age: 36
Home Country: USA
Curry has won the Arnold shows in both Brazil and Australia in the past. His career has seen a resurgence in the last couple years with him finishing in the Top 5 in the Olympia for the first time last year. His best placing at the Arnold Classic USA was 7th in 2015.
Steve Kuclo
Height: 5-11
Weight: 272 pounds
Age: 33
Home Country: USA
"Kingsnake" has won the Arnold Classic Brazil in 2014 but has never been victorious in Columbus. He placed 5th in this show last year. He's definitely a fan favorite and his routines always get the crowd on their feet. Kuclo is a former firefighter in this home state of Texas but has now concentrated on his own businesses as well as competing.
Lionel Beyeke
Height: 5-10
Weight: 240 pounds
Age: 38
Home Country: France via Cameroon
Beyeke has competed at this show on four previous occasions with his best finish being 4th in 2017. Beyeke has won two shows in his career and has placed well in others but winning here would put the sport on notice that he's a contender to be reckoned with.
THE DARK HORSES
Rafael Brandao
Height: 5-11
Weight: 255 pounds
Age: 25
Home Country: Brazil
Brandao will be making his Arnold Classic debut this year and start his second year as a professional. The former South American Amateur Champion can be a dark horse since he hasn't competed as often as the veterans in this field.
Akim Williams
Height: 5-10
Weight: 255 pounds
Age: 27
Home Country: USA
The New Jersey native has been a pro on the rise in the last couple of seasons but is still looking for his first professional win. This will be his first time competing at the Arnold Classic. Aside from displaying a lot of thick muscle, he's also one of the stronger bodybuilders in the sport.
Luke Sandoe
Height: 5-7
Weight: 247 pounds
Age: 29
Home Country: United Kingdom
Sandoe made his IFBB Pro League debut at the Arnold Classic in 2017 where he finished 8th. This will be the former British Amateur Champion's second appearance on the Arnold Classic stage. Like Williams, he's still seeking his first professional win but will be showcasing a bigger physique when he starts his 2019 campaign.
Mikhail Volinkin
Height: 5-8
Weight: 235 pounds
Age: 24
Home Country: Uzbekistan
Volinkin will be making his IFBB Pro League debut at the Arnold Classic 2019. He's also the youngest athlete in the field. Volinkin was the 2018 Arnold Amateur champion, which not only earns you professional status but an automatic invite to the Arnold Classic the next year. He won here as an amateur. Now the 24 year old wants to do the same as a pro.
---
Photo Gallery
---