Friday Fun At 2019 Arnold Sports Festival
March 01, 2019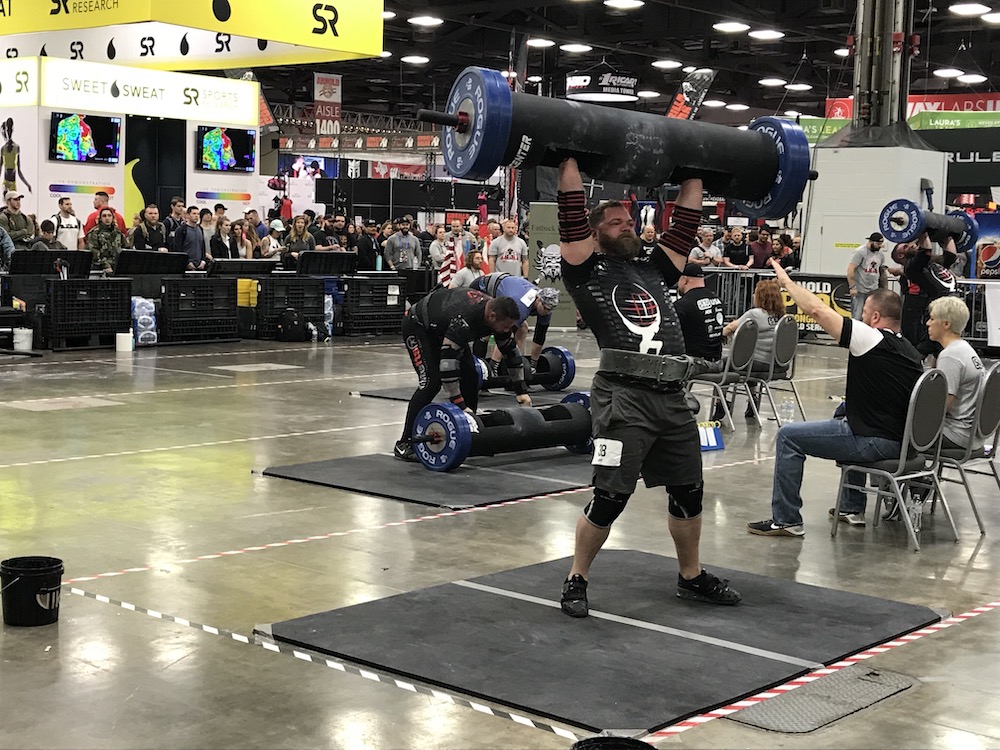 What the heck are on the shoes of those women bounding up and down and dancing on the Concourse Stage?

Why, they're wearing Kangoo Jumps, a new fitness boot and workout that looks like a lot of fun, and is another reminder that no matter how many times you've been to the Arnold Sports Festival … you will always see a few new things that make you scratch your head and say "I want to try that!"

Ritsa Mazur, an instructor at the FunFit Motion Lab in Cleveland, led the upbeat Kangoo Demonstration.

"It's a low-impact, high-intensity, rebounding activity," she explained. Kangoo Boots have what can only be described as miniature, and round plastic catapults on the bottom. The aerobic workout has been popular in Europe and South America for several years, and is slowly catching on in North America.

Demonstrating the fitness activity she loves at the Arnold is great exposure, Mazur said. "We were here for the first time last year, and only did one demonstration. This year we have an instructor who is training six people to be instructors, and we're having workshops and people can try on the boots and do it."

Kangoo Jumps is especially good for those with joint issues and for older people, Mazur said. "My mom, she's 74 and was very hesitant to try it. She was set for surgery for a double knee replacement and finally tried it and loved it and wound up not needing the knee replacements."

Mazur's mom was at the Arnold. She wasn't part of the demonstration, but was walking around the hall, looking spry and passing out brochures about Kangoo Jumping.
Strongman on the Rise
There's something a bit primitive and satisfying about the Arnold Amateur Strongman World Championships, according to Bobby Thompson, one of the top amateur men in the competition this year. "You're out there to see who's the strongest and who's the best and what better way to measure that than these six events?" he asked. The answer is: There is no better way.

Thompson is from Virginia and relatively new to strongmen competitions, and is quickly climbing up the amateur ranks. He works fulltime in logistics for the federal government and is a bouncer on weekends. It would not be wise to start a ruckus in any bar where Robin was the bouncer.

"I've always been strong, but I met someone (involved in the sport) who saw something in me and that's why I'm here," he said of his introduction to the sport three years ago. Thompson spends 25 to 30 hours a week in the gym, and consumes about 6,000 to 7,000 calories a day, "almost all grains and veggies and lean meat," he said.

The concept of the strongmen sounds simple: "It's anything heavy and odd-shaped that needs to be moved," Thompson said.

He did quite well on Friday in the opening round, the log press. His best event is the dead lift. "My best is 855 or 860," Thompson said. "But here (at the Arnold) it's on a thicker bar, a bar that doesn't bend and they put 700 on it and you do as many reps as you can. I'm hoping for 10."

And yes, it hurts to lift that much weight.

Sort of.
"It only hurts in the beginning, then it doesn't and then the pain becomes unbearable and then you don't feel anything anymore," Thompson explained. "The body shuts downs and you could black out."
Jump for Joy
We stopped by the jump rope competition and met the nice young lady at the front desk. Turns out she's Lily Wharton, 13, one of the top age-group jumpers in the world.
"My team, Jump Company USA (from Parkersburg, WV), we won the junior team freestyle competition at the World Jump Rope Championships in Orlando," she said. "This year, they're in Norway."
Lily is especially good at doing power jumps and multiples – and will compete today in the jump rope competition. "Power is a lot of gymnastics, and jumps on my arms and some flips," she explained. "And multiples are when you turn the rope underneath you multiple times on one jump."
Sounds hard, right?
And yet, there's a bit of a perception out there that jumping rope is something kids do on the playground, or boxers do during training. Well yes, but there are several more levels and big-time competitions worldwide that showcase the incredible athleticism of the top jumpers and the choreography of the team competitions. Providing a forum to share the awesomeness of sports such as jump rope is what the Arnold is all about.
"I recently did a show at my school," Lily said. "Everyone thought maybe I'd do a cross."
Her classmates were a bit shocked and amazed as Lily leaped and twirled and did power jumps and multiples. "We work really hard, eight to 10 hours a week, but it's so much fun."
Release Your Inner Ninja
Max Schierl, 17, was a bit unsure as he approached the start of the Ninja Warrior course in the massive Arnold Fitness EXPO.

Max is a high school wrestler – and quite strong and athletic, a great combination for a Ninja obstacle course. His brother, Fritz, wrestles for Ohio State, and is sister, Kali, is on the Buckeyes gymnastics team. And still…

"I wasn't sure what to expect," Max said. "They (the Ninja Warrior staff) told me about the warped wall (at the end of the course). "They say you have to lean back as you go up and you don't want to try and crawl up it."

Max made it through the course and up the warped wall to hit the buzzer in 47 seconds, which placed him in 9th place overall. But still, it was early in the day on Friday and several more competitors were able to go a little faster.

"I'm still trying to figure out what sport I want to do," he said after completing the course. "Maybe I can turn into a Ninja. It was a lot of fun."
---
Photo Gallery
---