Fans, Athletes Mix At Meet & Greet
February 28, 2019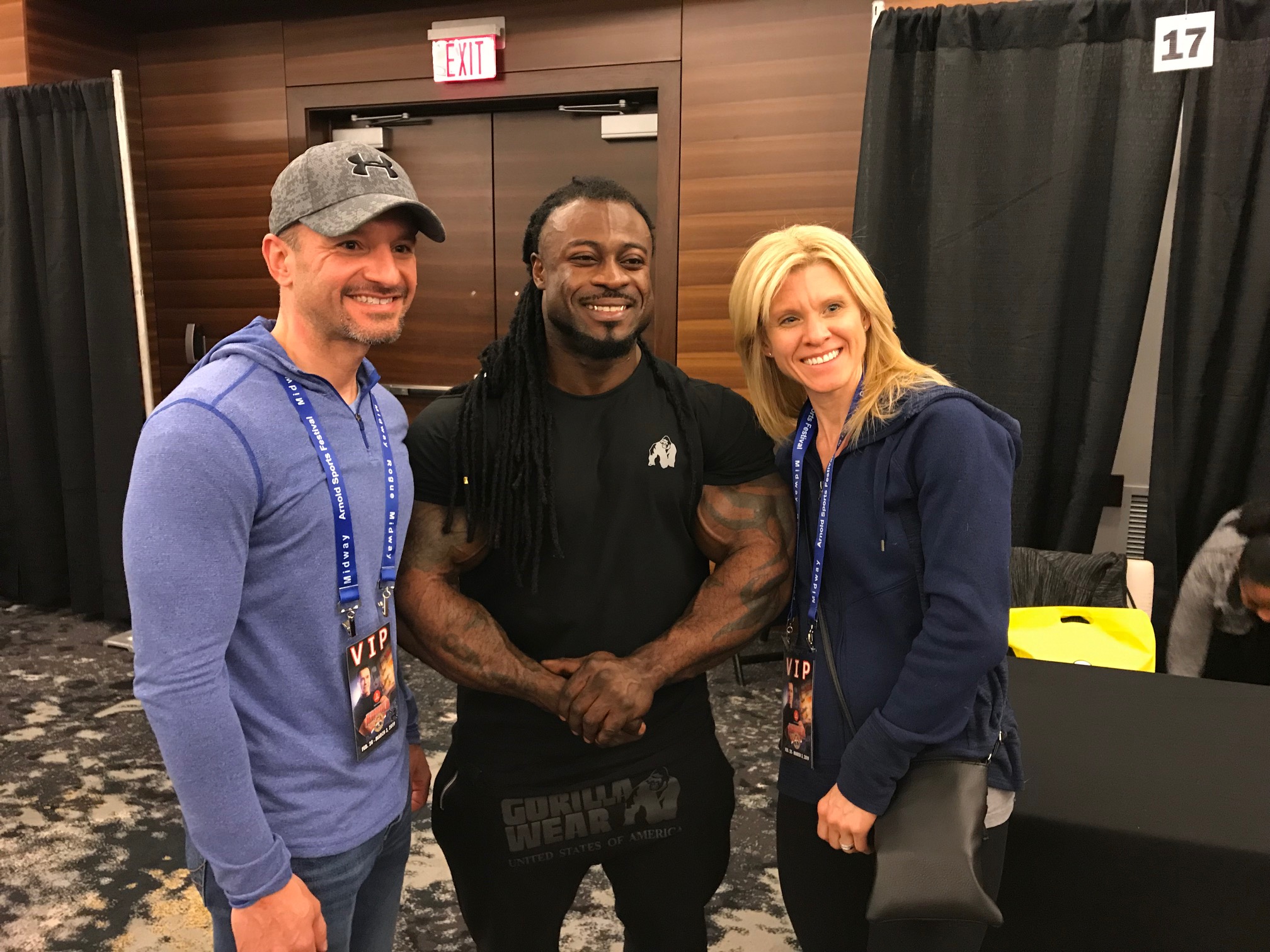 Peking duck.

This is what William "The Conqueror" Bonac eats on those rare occasions when he doesn't care about fat and calories.

This bit of Arnold Classic trivia comes courtesy of our new correspondents, Jenni and Gregg Glowinski, who came in from Green Bay and were first in line at the Meet & Greet With IFBB Pros on Thursday night to kickoff the 31st Arnold Sports Festival.

Jenni and Gregg got in line at 4:30 p.m. for the event, which started at 7 p.m. at the Hilton Columbus Downtown.

"We've always wanted come to the Arnold, but this is our first time," Jenni said.

"We had some friends who came last year, and they loved it," said Gregg, who competed in some regional bodybuilding competitions back in the day.

A Mountainous Photo
Behind Jenni and Gregg in line was Randy Facundo, who recently got out of the military. A short while before he and two friends got in line, the Michigan resident was walking around and was suddenly aware of a rather large and looming presence … and possibly the ground shaking.

It was Hafthor Bjornsson, the defending Arnold Strongman Classic champion and one of the stars of the incredibly popular Game of Thrones. "It was awesome, he was walking by and I introduced myself and asked for a picture," Facundo said. "Those guys are kind of huge and scary, but they're all really nice guys."

Because Jenni and Gregg Glowinski were first in line at the door, they were also first in line to meet Bonac. "I was surprised he said Peking duck was his favorite cheat meal, I thought he'd say something like ice cream, five gallons of ice cream," Jenni said.

The three chatted about diet and asked for a few workout tips.

"He was very engaging," Gregg said. "And very sincere and down to earth," Jerri added.

Bonac said he feels "confident" about his chances to repeat. "I feel good, I did my homework and now it's up to the judges."

After they posed for a photo with Bonac, Jenni and Gregg dashed off to find Roelly Winklaar, one of the bodybuilders expected to challenge Bona for the coveted Arnold Classic title. We weren't able to touch base with them after they met Winklaar to find out his favorite cheat meal.
I've Got A Secret
Last year, Whitney Jones had a secret.

Everyone knew she was on the rebound from a serious neck injury, but what we didn't know was that she'd suffered a knee injury, a torn ACL and a torn MCL in her right knee, only a month before the Arnold.
Surgery? Of course, but "my surgeon knows me all too well, unfortunately, and he knows I don't quit," Jones said. "I said can we hold this surgery off until the Monday after the Arnold?"

Her surgeon agreed (as if anyone was gonna say no to Jones), and she went on to win her first Arnold Fitness International competition, wowing the crowd and judges with her athletic performance … pretty much on one leg!

"I always say the mind is a powerful thing and so I just focused," said Jones, who wore a brace on her knee. The only sign of her injury was at the very end of her routine, when she put some pressure on her right knee and limped off the stage.

This year Jones is healthy. Her neck and knee are healed and her only secret is what she'll do in the competition. "Prepare to be amazed and don't blink or you will miss something you won't want to miss," she said with a big smile. "I love to entertain, and I have some new skills … and I have two good legs."

Training partners
Kate Errington is expected to be one of the top challengers for the title Jones holds. But here's the thing: Jones coaches Errington (via Skype as Errington lives in England), they train together a few times a year and are friends.

Errington looks ripped and ready.

"She's so experienced and so passionate about fitness," Errington said of her mentor. "Whitney's super inspiring and really cares about building the sport."

While Jones incorporates hip-hop and gymnastics in her routine, Errington is more of a dancer. "I have a background in ballet and I use some of that and some other types of dancing," she said.

Both women want to win, but only one can wear the crown.

"Whitney said that if I beat her it would still be like she won because she's my trainer," Errington said.

"I train nine girls who will be competing here and I root for them just as hard as I root for me," Jones said. "So, I can't lose."
Nice Arms, Dude
Tyler Brey also waited in line to see Bonac and pose for a photo with him.

Brey, who was born with spina bifida, will compete in the Arnold Classic Pro Wheelchair competition. "I've always been a huge fan of him, even before I knew who he was," Brey said of Bonac. "He has the best arms on the stage."

Bonac's arms are quite immense, and when he shook hands with Brey, who also some muscular arms, it was like an anatomy lesson as every muscle in the champion's right arm defined itself and did a little dance. Who knew one arm could have so many moving parts and muscles?

Harold "King Kong" Kelley is gunning for his fourth consecutive Arnold Classic Pro Wheelchair title and is the heavy favorite.

"He's untouchable," said Brey, who is a personal trainer and lives in California. "My goal is to do the best I can and see how close I can get to Harold. If it's only halfway there, that's okay."
---
Photo Gallery
---