Foosball, Futsal Among New Sports In 2019
February 22, 2019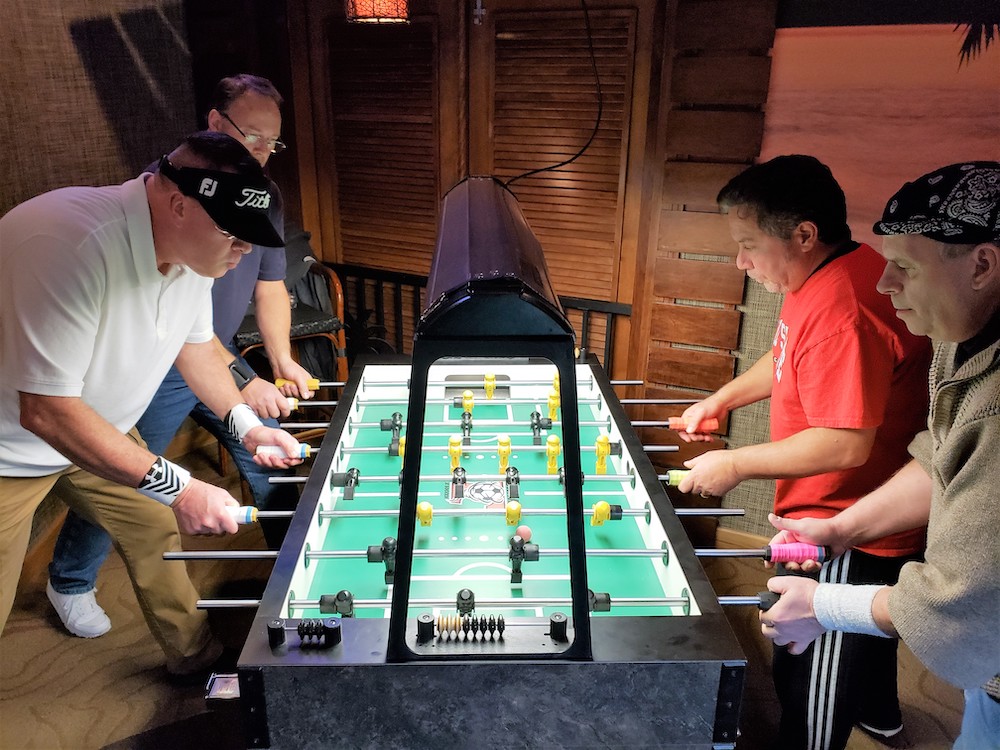 FOOSBALL IS AMONG NEW SPORTS AT THE 2019 ARNOLD SPORTS FESITVAL

Bob Lorimer knows his way around a foosball table.

"I have a table at home and play pretty regularly," said the President of the Arnold Sports Festival and a fan and connoisseur of any and all sports.

Lorimer recently took a trip to the Columbus Square Bowling Palace, where the region's top players gather weekly for some intense, high-level league competition. "I didn't even touch the ball; it's insane how good they are and how fast the ball moves," he said with a shrug and a smile.

A lot more people will be impressed and smiling during the upcoming Arnold Sports Festival as foosball makes its debut at the Arnold Sports Festival here in Columbus (Feb. 28-March 3). Foosball is one of several new sports and activities that will be featured at the world's largest multi-sport fitness weekend, celebrating its 31st year of all-around athletic awesomeness.

There will be more than 22,000 athletes from 80 countries competing in a record 80 sports. Other new sports this year include: the Arnold Ninja Warrior competition that will include several stars from the popular American Ninja Warrior TV show; the Viking Dash Trail Run at Delaware State Park and a post-race BBQ; and the international sport of Futsal. They will join the long list of fan favorites: The Arnold Classic, Bikini International, Arnold Classic Men's Physique and Arnold Strongman Classic Finals.

"I love learning about and bringing new sports to the Arnold," Lorimer said. "I'm a sports guy. Every sport."
For example: Futsal.

"We had it for the first time last year at the Arnold Sports Festival in Brasil and it's incredibly popular over there," Lorimer said of the indoor version of soccer (or football in many parts of the world) that uses a smaller ball and five players per side. "The talent and the skill and what they can do with the ball is incredible."

Bringing in new sports has led to the incredible growth and popularity of the Arnold Sports Festival here in Columbus, and the Arnold's expansion into Europe, Africa, South America and Australia.

"We love adding new sports, new activities, new events," Lorimer said. "It brings in new audiences and is a great way for a sport that may not be as well known to gain some exposure." The prestige, popularity and prize money of the Arnold helps these less-known, but exciting, sports gain a foothold and attract new participants and fans.
Foosball
Timothy "Captain Foosball" Litteral is excited to introduce Foosball to the Arnold.

"Oh my gosh, the Arnold is such a huge event and there will be so many people," said Litteral, who runs the league at the Columbus Square Bowling Palace and is the Foosball event coordinator at the Arnold. "This sport is only going to get bigger and bigger."

Foosball is already pretty darn big, with local, regional, national and international competitions, culminating in the International Table Soccer Federation (ITSF) World Cup and World Championships later this year. "A lot of people don't know it, but we have a national team in Foosball, just like we have in soccer and tennis," Litteral said.

There and singles and doubles in Foosball competitions, with players competing at different levels, from Beginner up to Pro Master. At the Arnold, the fast-moving action will be displayed on large screens for the expected crowds. "We'll have six different events – goalie wars, draw your partner, open singles and open doubles – and the competition will be fierce," Litteral promised.

Arnold Fitness EXPO
New is also the theme in the massive and still-growing Arnold Fitness EXPO at the Greater Columbus Convention Center that features more than 1,000 booths chock full of the latest in sports equipment, apparel and nutrition – and action. There are also four stages that host unique, non-stop competitions and entertainment.

"Our amazing venders keep everyone coming back," said Kathy Nagle, the long-time director of the EXPO. "Everyone wants to come and see what's new and get their samples."

Yes, the EXPO is jam packed, but, "the thing I always notice is how nice everyone is, how patient and polite everyone is," Nagle said. "Our attendees are so passionate about their sport and are so excited to be here."

New this year in the EXPO, Nagle said, are: A Fortnite video-game competition that "should be very popular" at the UMG Gaming booth;" a Spartan Obstacle Course that will include Elite, Age Group, Open and Ultras; and the Arnold Ninja Warrior competition that features a first-place prize of $5,000 for the top male and female competitors.
What's Next
Adding several new sports, activities and attractions every year takes a lot of planning, and Bob Lorimer is already thinking ahead to 2020 and beyond. There doesn't seem to be a limit on the number of fast, exciting and popular sports there are in the world.

"Jousting!" Lorimer said. "It's becoming really popular and has so much history to it. We're working on a way to have it out at the Ohio Expo Center."

Ringball is another possibility.

It resembles basketball, but the basket has only a hoop. No backboard. "It's huge in South Africa and was so popular at our Arnold Sports Festival in Johannesburg last year, and we want to try it here. I think people will really like it."

Lorimer said he's working on a few more new sports/events, but isn't quite ready to divulge his plans.

"Being in the Arnold gives any sport instant credibility, attracts sponsors, and big crowds and that leads to top prize money and a cycle of success for that sport," he said. "Plus, it's fun."
---
Photo Gallery
---