Meet & Greet: A Night With The Stars
March 01, 2018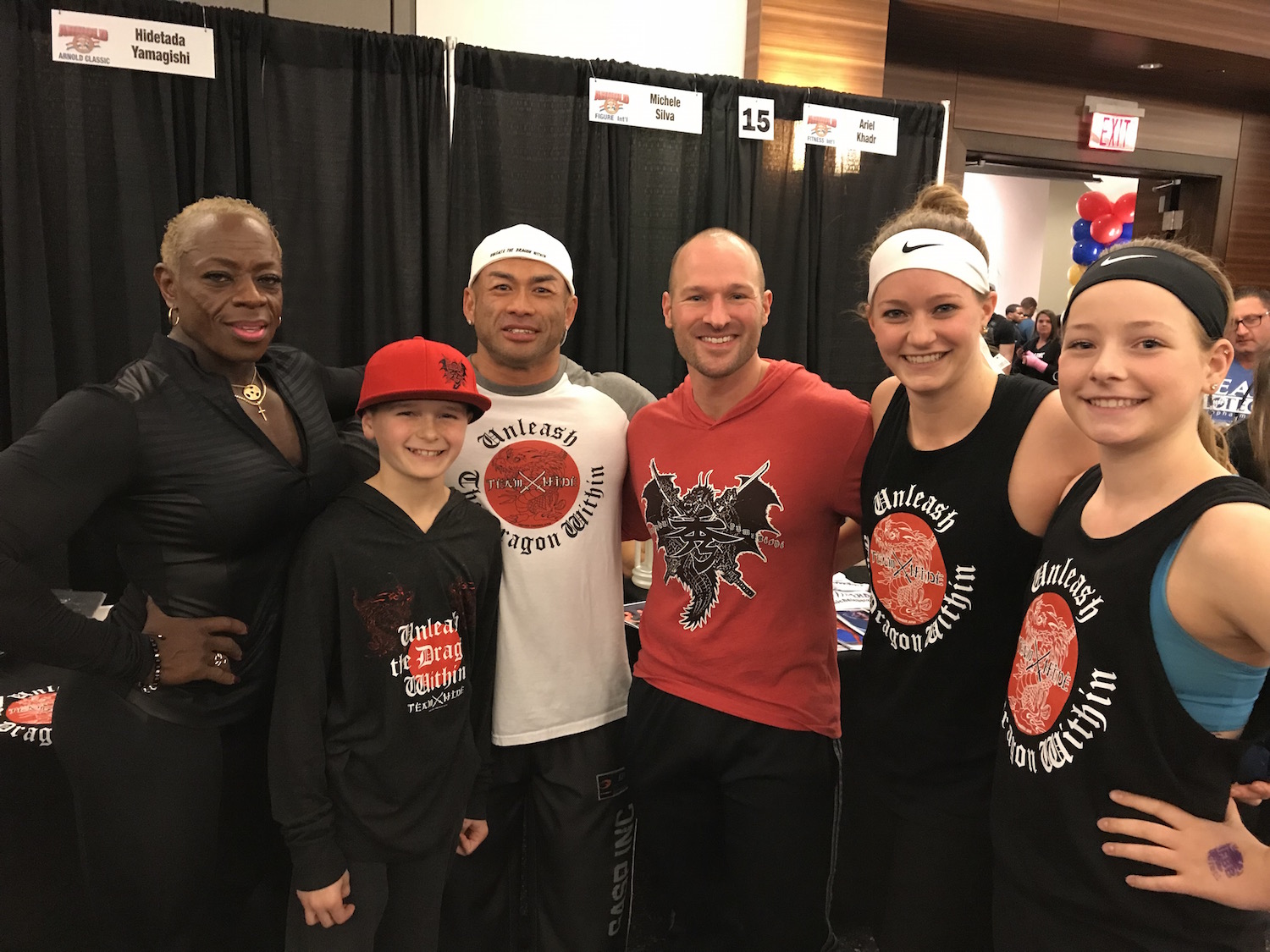 The countdown started a few seconds after the anesthesia wore off and Whitney Jones awoke from the surgery that fused together two vertebrae in her neck.
"The first thing I said was its 276 days until the Arnold," said Jones, who finished third last year in the Arnold Sports Festival's Fitness International competition despite the constant pain in her neck. And now, she's feeling so much better and is determined to move up two places. "I told my surgeon I needed to be on that stage. He said, 'I don't know about that,' and I said, 'You don't know me.'"
The determined Jones will indeed be back on the Battelle Grand stage on Friday night, along with the world's top Fitness International competitors. The daily countdown is over and now it's time to compete.
"I was back in the gym a week after the surgery, with a big neck brace on," Jones said. Due to her still-healing neck, which is actually still healing as the bones continue to knit together, she couldn't and still can't lift as much weight as she was accustomed to lifting.
"I had to be careful and focus even more on my form," said Jones, whose new workout regime includes lower weights, more reps and incredibly precise form to isolate individual muscles to make then pop. And they do. Pop, that is. As Jones greeted fans last night at the Arnold Classic Meet & Greet, she looked ripped and ready.
"At this point, all I can do is visualize everything and keep my mind focused," she said. "All the work is done, and I know I did everything and I have the confidence and can visualize winning."
Meet & Greet Big Hit With Fans, Athletes
Jones was one of the many Arnold superstars of bodybuilding at the IFBB Pro League Meet & Greet held in the Bellows Ballroom of the Hilton Columbus Downtown on Thursday evening. The line was 50 deep for Cedric McMillan, the defending Arnold Classic champion. Five-time Arnold Classic champion Dexter Jackson was there, as well as 2014 champ Dennis Wolf.
The event attracted several hundred fans. And, at the front of the entry line, waiting patiently for the doors to open at 7 p.m., was the Dierenfeldt family: Jeremi and Danielle, and Jade, 14, and Owen, 11.
"We've been here since 5," said Jeremi, who was almost as excited as Owen and Jade to see his favorite bodybuilders. Actually, he may have been even more excited than his kids.
"We're big fans of Hidetada Yamagishi," Jeremi said of the popular Japanese bodybuilder. "We've gotten to know him really well the past few years. He's a great bodybuilder and an even better human being."
The Dierenfeldts have been to the Arnold four times, driving 12 hours from their Missouri home. They all wore Yamagishi paraphernalia, several emblazoned with his motto: Unleash the Dragon Within
Jeremi and Danielle recently entered their first bodybuilding competition. "I did better," Danielle said. "I got third and he got fifth." She didn't seem to be rubbing it in. Well, OK, maybe a little.
Soon after the doors opened, the Dierenfeldts made their way over to Yamagishi's table. He was in the middle of being interviewed by a television station, but he gave Owen a wink as he answered questions, and then waved the family over as soon as the interview was completed. They chatted, laughed, posed for photos and Yamagashi gave Owen a new hat that he signed.

Candy Eyes Another Figure I
Winning the Figure International last year was a huge career boost for the warm and friendly Candice Lewis-Carter, who hugged hello dozens of friends and fans at the Meet & Greet.
"Being the champ really tuned me into my training even more," she said.
And how was her training?
"Like death!" Lewis-Carter said with a smile, adding she especially hates doing squats. "But I had to take it up another level."
Lewis-Carter has been binging lately on protein-packed red meat.
"I have to get my steak," she said. "And this year, I don't even have to cut (weight). I'm drinking water. I had a gallon of water today."
Henry Back To Claim Arnold Clasic 212 Title
David Henry looks even more massive than last year, when he finished second in the Arnold Classic 212.
"To me, I won the show," said Henry, who sounded more confident than cocky. "That's the way I see it, that I'm the defending champion and it's my show to lose."
To ensure a win, Henry did thousands and thousands of what he calls "nut crushers." This exercise is as painful as it sounds, but Henry built up the already colossal muscles on his inner thighs to what might just be legendary proportions.
This will be Henry's 13th Arnold Sports Festival and this veteran knows how to pack. "I'm eating a lot of red meat right now, filet mignons," he said, adding he brings the frozen filet mignons with him "and I brought my Foreman Grill to cook 'em just right."
---
Photo Gallery
---