Axe Throwing Instant Hit With Weightlifters
March 02, 2018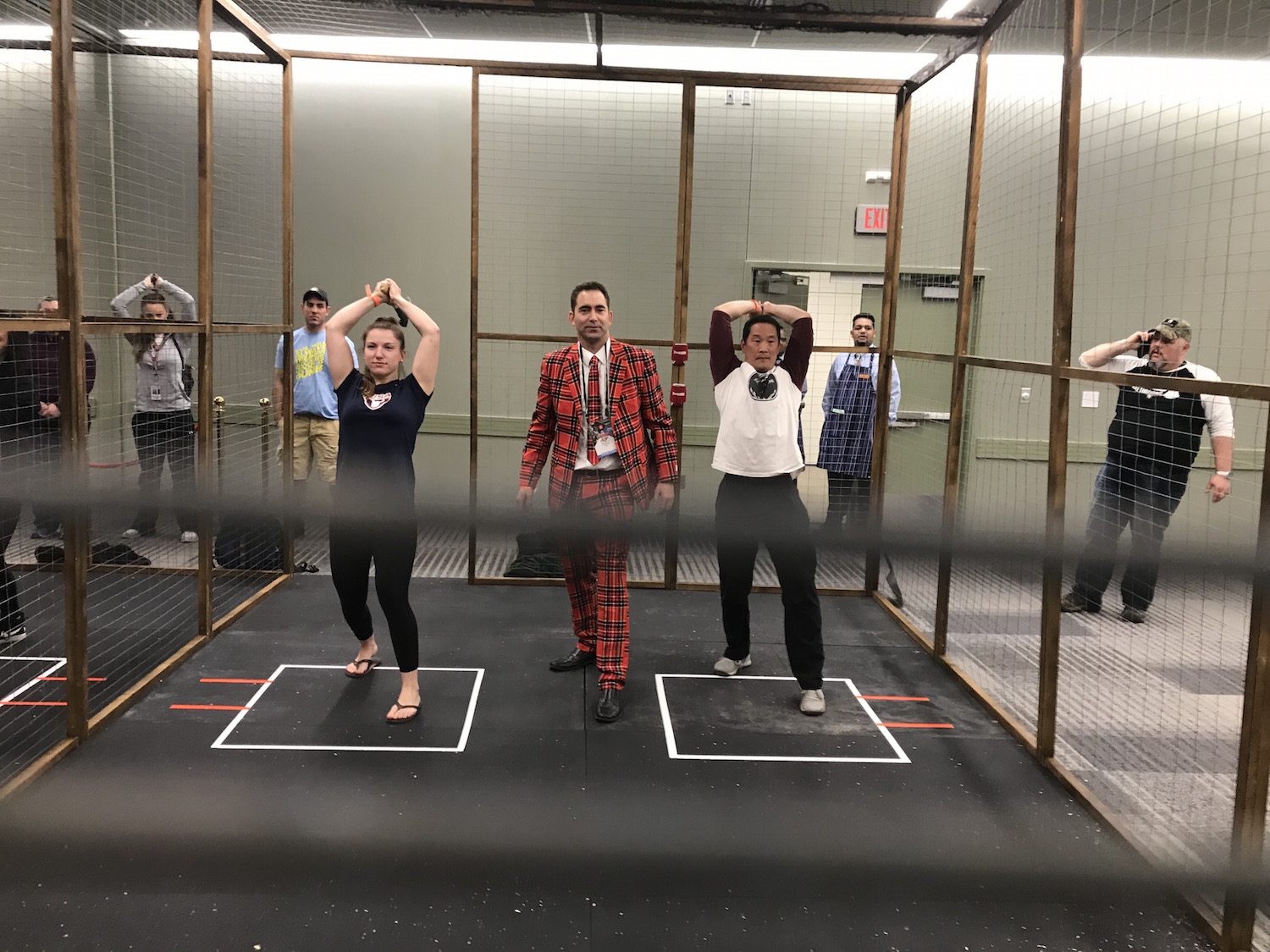 When Halle Russell walked by the axe throwing space, something happened on a molecular level to the weightlifter from Texas. "I said, hey, that's axe throwing; I have to do it," she said. "My body forgot all about weightlifting and I needed to throw an axe. I could be an axe thrower." And so, Russell tossed a few axes, along with her friend and fellow weightlifter Gerald See, from California. It was love at first fling. "We're here to try other sports, and when we saw axe throwing, it had to be one of them," See said. "This is awesome."
Axe throwing is one of the new events at the 30th Arnold Sports Festival, and the yearly addition of new and exciting sports is one of the many reasons the Arnold continues to grow and is the world's largest multi-sport event. The first Arnold Axe Throwing Championship will be held on Sunday and feature the top talent, as well as wood-be lumberjacks.
"Axe throwing is a new phenomenon," said Marty Parker, president of Bucket List Productions and the owner of two (and soon to be three) Columbus-area axe-throwing clubs. He's the organizer of the axe throwing competition, and also the cages where Arnold attendees can try out the sport.
Hundreds took the opportunity to throw a few axes because: It's totally fun. And cathartic, competitive and primal.
With some help from Parker, here's the secret to accurate axing: Start with two hands, even though throwing one-handed seems more intuitive. And then, it's all in the follow through. "You want to end up in the Superman pose, like a ski jumper landing," said Parker, who was decked out in a bright-red and plaid suit to honor the lumberjacking heritage of the sport.
On his very first attempt See's axe landed an inch from the bullseye.
"I had to beat Halle," he said, adding he'd also tried his hand (or is it hands?) at pole dancing. "I thought I could revolutionize the sport with our weightlifter's grip," he said.
How did that work out?
"Not so good," See said with a laugh, adding that next he wanted to try the Ninja Warrior course in the nearby EXPO.
Ninja Couse: Weekend Warriors Need Not Apply
"It looks a lot easier when you watch it on TV," said a sweating and out-of-breath Martine King seconds after he made his way through the Ninja course.
And King is in great shape. The Arnold veteran lifts five days a week, takes boxing and yoga classes. Then again, he's never attempted to scale the infamous and intimidating warped wall. He made it on his second try.
"You have to get up enough speed and then really push off the wall," he said.
King's buddy, Poe Es, a martial arts competitor, was next in line. He too made it up the wall on his second attempt.
"If Martine made it, I had to make it," he said.
Joe Miksan, a bodybuilder and powerlifter from Peoria, Illinois gave the course a go, and did quite well.
"The wall was the thing that scared me," he said. "It's 15-feet high."
Actually it's 12-feet high, but you can easily understand Miksan's mistake of proportion. That darn wall looks really, really high. Impossibly high.
"I'm kind of short and just missed it on my first try," he said. "So then, I went all out."
He made it, and kept going.
"By the end, you're losing all your grip strength," Miksan said. "Your ability to hold on is gone."
Body Painting Brings Human Art To Life
Competitive Body Paining is another new event at the Arnold – and is quite eye catching. There was an exhibition on Friday, and the championship is Saturday.
The competitive side of this art form was made popular on Skin Wars, the Game Show Network show. "I was the runner-up on the second season and that really changed my life," said Avi Ram, a talented artist from Fort Lauderdale.
Ram is one of the favorites for the Body Painting championship, along with two-time world champion Sanatan Dinda from India.
"Today is about creating a character," Ram said on Friday as he painted the body of Charles Lyons, an IFBB bodybuilder and frequent Arnold competitor. "Tomorrow is about creating a work of art."
And what a canvas he had to work with.
Lyons is all lean, rippling muscles, from his head to his toes, and he's a pro at posing, and relaxing and holding a pose for long periods of time as Ram painted him, creating a superhero-type character.
"It's totally different from painting on a flat surface," Ram said. "This is 3D. You have to know the human body and work with that."
The world of body painting is quite competitive and neither Ram or Dinda would describe their designs for the championship.
"That's my secret," Ram said.
"I know, but I can't say," added Lyons, who will be Ram's human canvas in the championship paint off. "It's going to be amazing."
Jump Rope Combines Gymnastics, Hip Hop, More
This blog was supposed to be over, but then, as so often is the case at the Arnold, something pretty cool just happened.
We were walking through the convention center and came across the amazing members of the American Jump Rope Federation putting on an exhibition. These male and female teens combined jump rope with gymnastics, hip hop, and a few other body contortions that you have to see to believe. It's possible to lie on the ground and still jump rope. Or while doing a hand stand. Or a back flip.
The World Jump Rope Competition will be Saturday at 10 a.m. and again at 1:15 p.m. on the Concourse Stage.
The morale of this story is: When you're at the Arnold, keep your eyes and ears open and at full alert, because you never know what or whom you see next axing, jumping, painting or Ninja-ing by.
---
Photo Gallery
---