Curry Wins 2019 Arnold Classic
March 02, 2019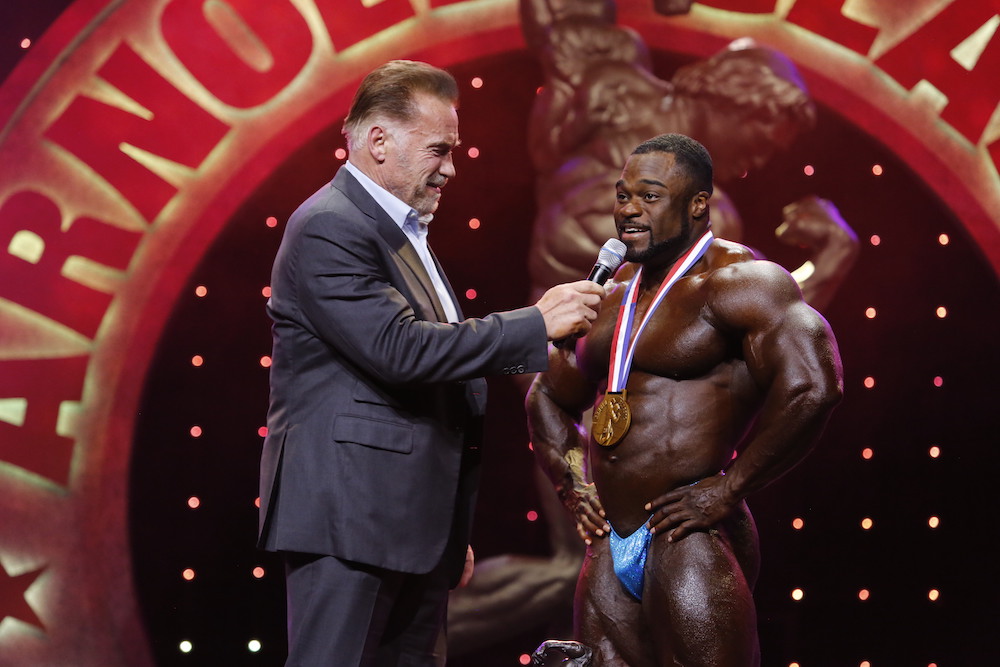 Arnold Sports Festival co-founder Jim Lorimer is very proud of how far this festival has evolved but always takes prides in its roots. "We always find new ways to get more interest in this weekend and have more people involved. It's a challenging process but the Arnold Classic is what started it all and that is why it has always been and remains the centerpiece of this festival."
The main event of this weekend took place at the Battelle Grand and the athletes who graced the stage did not disappoint.
ARNOLD CLASSIC
Brandon Curry out of Tennessee had previously won the Arnold Classic Brasil and Arnold Classic Australia but winning his third different Arnold title tonight was the one that meant the most. "I feel accomplished, incredible, amazing. I've won the other two but always wanted to win the Arnold USA and to have this now is unbelievable."
With the whole support of his family that was in attendance, Curry upset 2018 champion William Bonac and has his sights set on the Olympia. The reigning Mr. Olympia, Shawn Rhoden, was as impressed with Curry as the audience.
"He was unbelievable tonight. That was the best I ever saw him and am proud of what he did tonight. This was a great show from top to bottom and was glad to be here to see it."
Another surprise was British sensation Luke Sandoe who came in 3rd. This morning he knew this show was going to go better than his debut two years ago. "I am more prepared, trained harder, and been in constant contact with Chris Aceto so I feel a lot better today."
1st – Brandon Curry
2nd – William Bonac
3rd – Luke Sandoe
4th – Cedric McMillan
5th – Roelly Winklaar
6th – Steve Kuclo
Bikini International
Ashley Kaltwasser, arguably the greatest athlete in this division's history hoped to gain another Arnold championship but today belonged to Janet Layug who competed here for the 6th time and finally came out on top.
"I won the Arnold Australia but this one was always the goal and I can't explain how I'm feeling right now. I'm so thankful that I won this show."
1st – Janet Layug
2nd – Elisa Pecini
3rd – Ashley Kaltwasser
4th – Jennifer Dorie
5th – Marcia Goncalves
6th – Lauralie Chapados
Men's Physique
2018 Arnold Men's Physique winner Andre Ferguson faced a tough lineup that included past champion Sadik Hadzovic but when the final announcements were made, Peterson would outlast him as well as runner-up Raymont Edwards to leave Columbus as the champion for the second straight year.
1st – Andre Ferguson
2nd – Raymont Edwards
3rd – Hyron Holden
4th – Logan Franklin
5th – George Brown
6th – Sadik Hadzovic
Arnold Strongman Classic
The Arnold Strongman Classic has become a popular contest in its own right and has progressed the sport in a massive way. The athletes that came for this title had to face elephant bar deadlifts, the much hyped Conan Wheel of Pain as well as other standard strongman lifts.
The final event on Saturday night was the Stone to Shoulder event which saw Mateusz Kieliszkowskis set a new record with 5 successful lifts in 2 minutes and 30 seconds and win $5,000 courtesy of Rogue Fitness.
Another moment from this event came when Martins Licis completed his second stone lift. Upon dropping the 410 pound stone, it rolled off of the stage and onto the floor near the front row. Although the judges offered Licis compensatory time to continue, he declined citing an injury.
2018 winner Hafthor Bjornsson was doing so well this year that all he had to do was complete one successful lift and he clinched his second straight championship. He did just that and celebrated on center stage with Arnold joking about how many calories he ate a day.
Lifetime Achievement Award
The 2019 Arnold Lifetime Achievement Award winners were the late Dr. Terry Todd and his wife, Jan Todd, for their contributions to strength and iron sports. Jan Todd was presented the award by Arnold Schwarzenegger and gave a speech which was received with a standing ovation from the crowd in attendance.
For more information on these events as well as everything else taking place at the 2019 Arnold Sports Festival, go to www.arnoldsportsfestival.com and also search for Arnold Sports on social media.
---
Photo Gallery
---