Arnold, EXPO Are Main Attractions at Fitness Festival
March 03, 2017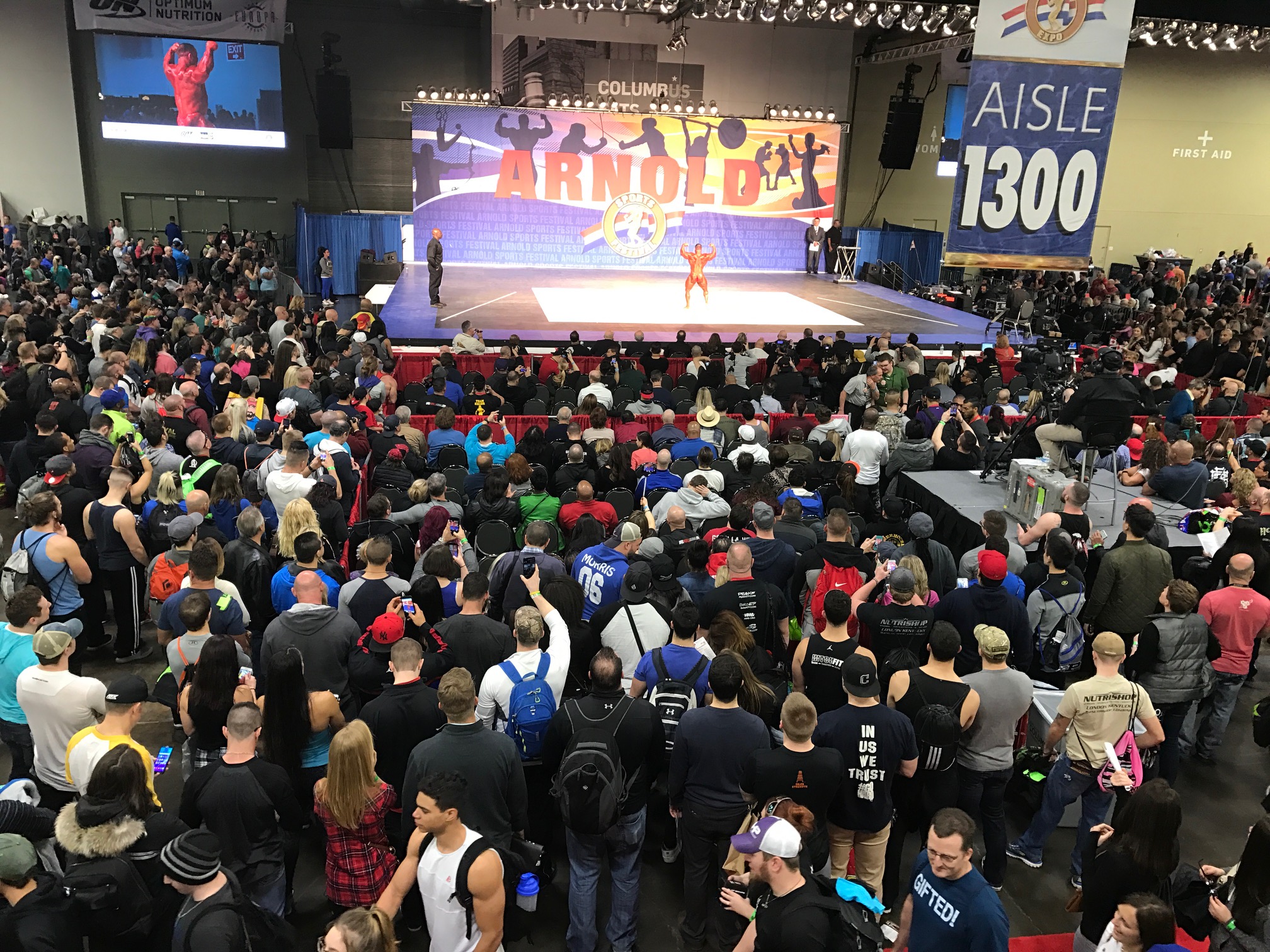 By Steve Wartenberg
You need a plan.

That's the advice of veteran attendees of the Arnold Fitness EXPO, the nation's largest health and fitness expo with more than 1,000 exhibit booths, non-stop action on three stages and thousands and thousands of wandering fitness fanatics/attendees.

"Get in the lines fast, find out what you want and do all your shopping on Sunday, when you get the best deals," said Patrick Glass, who came from Pittsburgh for his third EXPO.

And lift some monster kettlebells.

We caught up with Glass at the Dymatize booth, which features a 68-kilo kettlebell and a competition to see who could squat lift the giant ball of steel the most times. The record was a very impressive 103, by a mystery man named Colton, as of Friday afternoon.

Glass did 50 reps and then his grip gave out.

"That's what goes first, your grip," he said. "My legs were still OK."

His buddy, Mike Sekerchak, was determined to beat his friend, and did 52 reps, but was too out of breath to tell us his EXPO strategy.

Melissa Messam tried to fill Shari Easter in on what to expect at the EXPO on the drive from Cleveland. But mere words can't adequately describe the sights, sounds and free samples of the Arnold Fitness EXPO.

"People, lots of people," was Messam's description. "And a lot of booths to visit. It can be a little overwhelming."

A little?

"It was definitely overwhelming," Easter said of her first EXPO. "But it was so exciting to be around so many other people so into fitness."

Being "into fitness" and having a little bit (or a lot) of awe for all the superstars of fitness who make appearances at many of the booths was the tie that bound together the attendees all across the U.S. and beyond. The Arnold attracts 200,000 people.

"Everyone here is hungry for fitness and we love to hang out and see what's new and how our idols look this year and shake their hands," said Randy O'Neil, who was at his eighth EXPO.

His number-one idol is Arnold.

"Arnold's the man, everyone comes here to see Arnold and be in his presence," O'Neil said, adding he once got to fist bump his idol.

Soon after he said these words, Arnold entered the building, or, to be more precise, the massive exhibit hall at the Greater Columbus Convention Center.

"You'll hear him before you see him," O'Neil said.

And sure enough, you could hear crowd ooh and aah and watch them form a slowly moving and ever-growing swarm of photo-taking fans around Arnold as he made his way through the EXPO.

"I saw Arnold, but I'm too short and couldn't get a photo," a woman said.

The King of Fitness made his way over to the Ricart Automotive booth to say hello and chat with old friend Rick "We're Dealin" Ricart.

"He's the biggest reason bodybuilding and fitness and nutrition are as big as they are in this country today," Ricart said, adding Arnold has inspired him. Over the last four years, Ricart has lost 66 pounds and become a fitness buff. He joked that his new title with Ricart is Vice President and Amateur Fitness Enthusiast.

"What amazes me is he still takes the time and cares enough to talk to as many people as he can when he's here," Ricart said.

Up above the EXPO was Jim Lorimar. The renovation and expansion of the convention center includes the addition of three suites that look down upon the massive exhibit hall. Only one has a name: the Lorimar Suite, which seems an appropriate and well-deserved honor for the man who, along with friend/partner Arnold, co-founded and built the Arnold Sports Festival into an international franchise with events on six continents. Lorimar is 90, but very much involved in the running of this massive and well-run event, although he modestly passes on all the credit "to my team and my son (Bob, President of the Organizing Committee)."
"Look down there," Lorimar said pointing to a competition area directly below him. "There's 20 people from South Korea doing a Taekwondo demonstration. And look over at the main EXPO stage (where the Physique Finals were taking place). It's jammed packed. Look at all those people. And over in that corner, there's the ROGUE Strength Stage and all the way down to the right is the area for the Highland Games. We have indoor Highland Games here now."
Lorimar is rightly proud of the size and scope of the Arnold Sports Festival and its accompanying Arnold Fitness EXPO. One of the secrets to all this success is that the Arnold continues to evolve and add new events, venues, competitions and activities.

Jesse Nellum and Lindsay Sipos were in the midst of a well-deserved rest outside the EXPO when we found them. The couple (they're engaged) came in from Dayton for the Arnold.

This wasn't their first rodeo, and they had an EXPO plan they'd already executed to perfection

"The earlier you come, the more stuff you'll get," Nellum said of all the swag (the free stuff) and merchandise (the stuff you have to buy) at the booths at the EXPO.

"And be patient," he said. "The lines get long. You have to pick out your favorites."

"And try and get as much stuff as you can," Sipos said.
---
Photo Gallery
---