IFBB Meet & Greet: Fans Enjoy Meeting 'Super Heroes'
March 02, 2017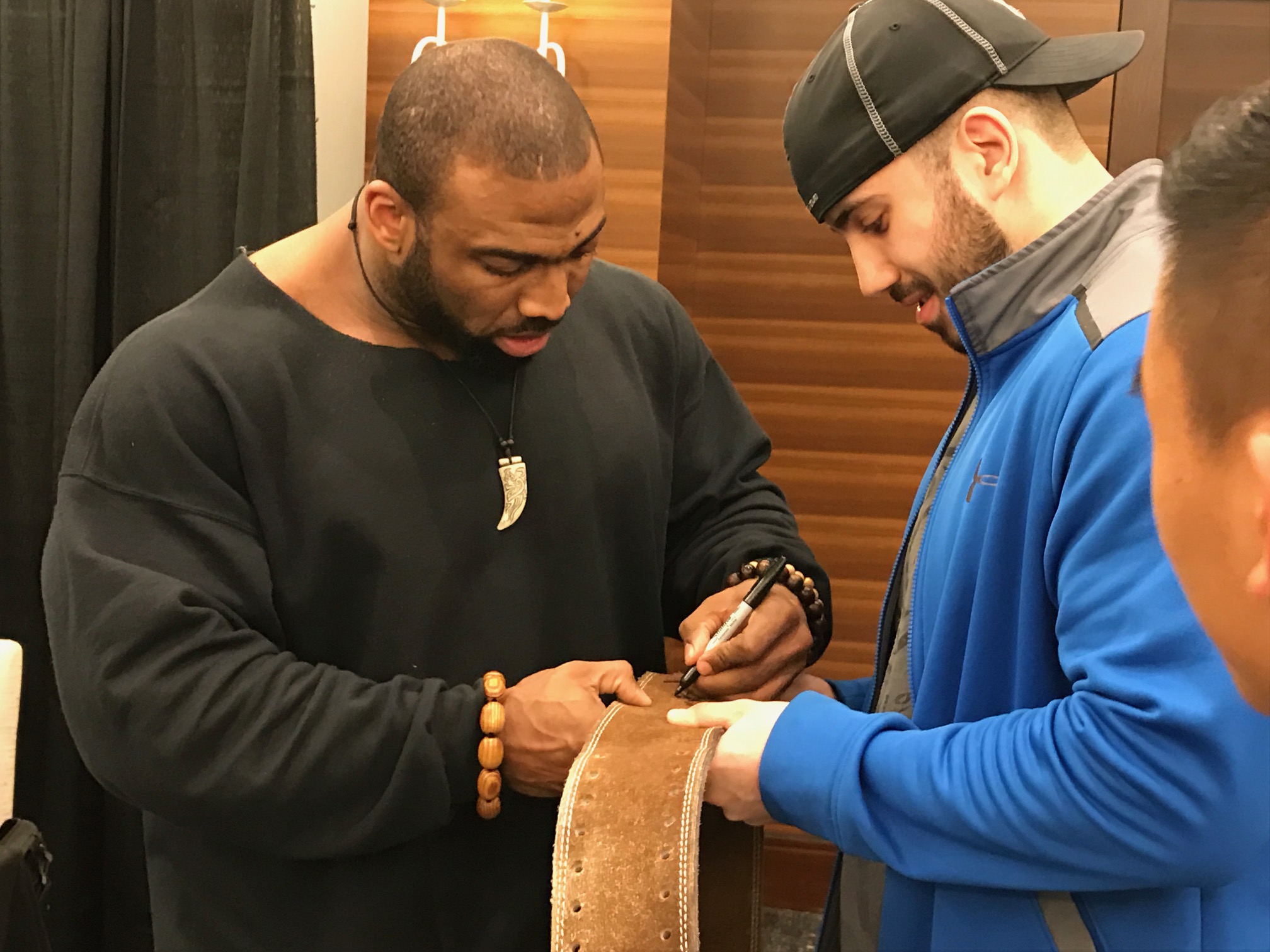 By Steve Wartenberg

What's it like to meet the biggest and buffest superstars of the Arnold Sports Festival?
"It's so crazy," said Sebastien Kamel, who came all the way down from Montreal for his first Arnold Sports Festival. He attended the Meet & Greet With IFBB Pros on Thursday night.
"You see them on YouTube and now you see them in real life," Kamel continued. "They're like super heroes and they're real, they're really real."
You have to forgive Kamel for being a little giddy. He had just met, got an autograph from and posed for a photo with the very real Cedric McMillan, one of the top contenders in the Arnold Classic bodybuilding competition. McMillan was second in 2016 and is as big in real life as he is on the stage.
Surrounding Kamel, and the more than 1,000 other fans, were a lot more stars. It was as if the IFBB had exploded all over Columbus.
"It's an honor to meet all the people," said Dallas "Big Country" McCarver, another top contender for the coveted Arnold Classic title. "Anyone who would stand in line to meet me, it blows my mind."
This is McCarver's first Arnold, but he's a veteran at autograph sessions. He brought a stack of photos to sign so thick that even he couldn't rip it in half. As the evening wore on, and the line at his table stretched back 100-plus people, the stack slowly vanished.
Zach Holcomb got one of the autographed photos of McCarver.
"I only found out about him a few weeks ago, from his Road to the Arnold video on YouTube," Holcomb said of the rising young star. "It was all about his prep for coming here and it was amazing."
It got Holcomb pumped to come up from Big Stone Gap, Virginia for his first Arnold, and back in the gym to lift some weights. He's also anxious to wade into his first Arnold Fitness EXPO today.
"I'll be like a lost puppy," Holcomb predicted of the sights, sounds and samples of the nation's largest health and fitness expo. "I'm gonna meet as many people as I can and wait in line for as much stuff as I can."
There was also a long line of fans ready to meet and greet Jose "The Boston Mass" Raymond. He won the Arnold Classic 212 title in 2015 and was second last year.
Many fans had a question or two for the very approachable Raymond.
"I get asked how I'm feeling, how my prep went, how confident I am going into the show," he said.
So, how confident are you?
"Very confident," Raymond said. "Bodybuilding isn't for the faint of heart. You can't go in front of thousands of people and not be confident."
A few tables down was Whitney Jones, a favorite in the Fitness International competition. She was second in 2016.
And shhhh, Jones has a secret.
Actually, all the competitors in the Fitness International competition have a secret.
"In our division, there's all the posing and then there's also a 2-minute routine that can combine dance and gymnastics and strength moves," Jones said. "So, in addition to all the diet and working out, you also have to practice hours and hours on your routine. It's a chance to express our creative sides."
So, what's your routine?
"That's a secret," Jones said with a smile, adding all the women keep their attire and routines under wraps. But here's a hint about what Jones will do in today's (Friday) competition: "I'm known for my high energy and explosiveness, and some break dancing and B-Boy hip hop."
Jones did reveal one secret that may make her competitors a little envious: She loves donuts. "I had seven donuts two days ago as part of my prep and even eat donuts backstage," she said, adding she has a great metabolism and the donuts don't seem to have an adverse effect.
Jones was super excited to learn about Destination Donuts, the new shop in the nearby North Market. "I can't wait to get over there," she said.
"Big Will" Harris also has a secret: His age.
"I've been around since the pyramids," he joked and then predicted: "I'll drop an age bomb on Ohio … I'm bringing the best package I've ever brought to the stage."
The veteran bodybuilding is competing in his first Arnold Classic, but goes way back with the Arnold. "I'm from Venice, California and I train at Gold Gym," he said of the epicenter of bodybuilding and the home-court gym of Arnold.
"I see Arnold there all the time," Harris said. "I just spoke to him yesterday and he said, 'Big Will, this is a body I like, and come see me when you get to Columbus, we'll have some fun."
When you think about it, Arnold's advice to Big Will is the perfect way to enjoy the Arnold Sports Festival. It's all about seeing the superstars, the competitions, the EXPO and having some fun. And if you don't get a chance to see Arnold, stop by his statue outside the convention center and pose for a photo.
---
Photo Gallery
---